Learn all about the team and the owner of Creme De La Creme Cake Company. Located in Historic Handley District in East Fort Worth, Texas. We use nothing but the freshest ingredients, providing our clients with a creative experience to remember and treasure. We serve the Fort Worth, Weatherford, Dallas, Arlington, Mansfield, and surrounding areas.
Jamie
If you have yet to meet the lady behind all the pink, you're definitely in for a treat… and more pink. Jamie started this confectionary company on her own after some friendly encouragement at a dinner party. Once her assortment of desserts had been tasted, there was no going back. And it will be quite the same experience for you when you come in for a treat. The same principles of quality, affordability, and design are still maintained today with each customer to make sure that our contribution to their event, big or small, is exactly, if not better, than what they asked for.
Jamie loves to meet new people coming in for a slice of cake or to sit down and design the wedding cake of their dreams. So stop on in or send in a note, we'd love to hear from you!
Because one can't truly know too much about their baker, some of Jamie's favorite things:
Her Kiddo
Running errands for the shop …wait wrong list
Designing wedding cakes
Her Husband
Pink Glitter
Pink
Glitter
Sparkles
Cake
Coffee
Coffee Cake
Dancing
Coffee
Glitter
Pink
Fun
Cake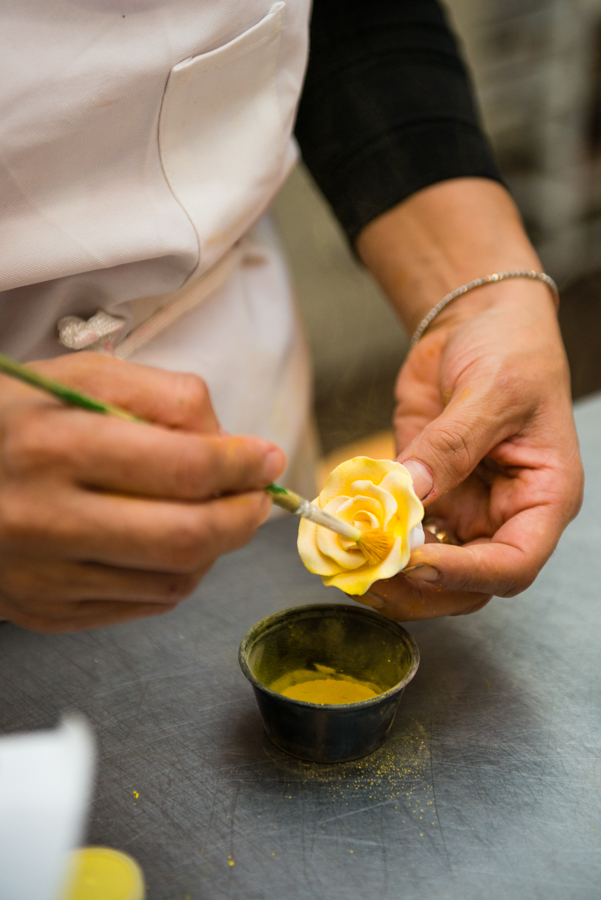 The Team
As much as some people believe that our fearless leader baked, stacked, and decorated every last crumb of their sugary centerpiece, we have a team of cake lovers who work behind the scenes to pull it all together for our clients. Not a single cake is completed by one person alone and we love the dynamic of a creative team working on everything that leaves the shop. You may smell the freshly baked treats in the morning or see some of our decorators toiling over a towering masterpiece. Either way, it's all in a day's work here at Creme de la Creme Cake Company.